ISAP -Your main highway to top-level international information and technology exchange
ISAP is a volunteer organization of professionals and experts established to share the latest in leading edge asphalt pavement technology worldwide. The Society's distinctly global and inclusive approach is reflected by our international membership, representing all stakeholders in the asphalt industry - users, producers, professionals, as well as individuals and organizations.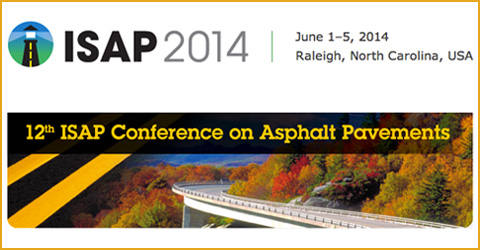 News & Updates
March 28th, 2014
A workshop entitled  "A Step Forward Toward A Better Understanding of the Blending Between Recycled and Virgin Asphalts,"  will be held in Raleigh, North Carolina, USA on June 1, 2014.  This half day workshop is being organized by the Working … Continue reading →
Become a Member
For information on membership click
here
.
Proceedings available
11th conference now available
Proceedings of all 11 ISAP Asphalt Pavement Design Conferences (1962 - 2010) are now available on CD in Acrobat format and are indexed and searchable. You can also print individual papers from the CD.
Click here for more information.